Air Filters & High Pressure Cartridge Filters & Purification
ProSub sells for high pressure (HP) and low pressure (LP) compressors filtration and purification products such as breathing air filters, air intake filters, compressor crankcase oil filters, oil and air separators. The filtration cartridges purifies from compressed air oil, reduce water vapor and filter out unwelcome taste and odor.
ProSub high pressure breathing air purifications meets or exceeds all international breathing air standards for CGA Grade"E" Air and DIN EN12021.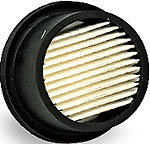 Inlet Filter Element

SCA80 Electric

SCA100 Electric/Gas
Inlet Filter Element

SCA140/215/265 Electric

SCA215/265 Gas/Diesel

SCA215/265/300 Cabinet/Silent
Inlet Filter Element

SCA1650/750 HD Cabinet/Silent Electric
High Pressure Cartridge Filters
Purification disposable filter cartridge

Activated carbon – 13x Molecular sieve

SCA80 Electric

SCA100 Electric/Gas
Purification disposable filter cartridge

Activated carbon – 13x Molecular sieve

SCA140/215/265 Electric

SCA215/265 Gas/Diesel

SCA215/265/300 Cabinet/Silent
Purification disposable filter cartridge

Activated carbon – 13x Molecular sieve

SCA650/750 HD Cabinet/Silent
MS1380 Molecular sieve 1 Liter

AC1350 Active carbon 1 Liter

Filtration media for high pressure breathing air compressors

Suitable for high grade breathing air production

SCA650/750 HD Cabinet/Silent